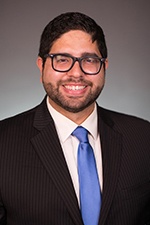 Fernando C. Rivera-Maissonet
Associate
FRiveraMaissonet@hinshawlaw.com
212-471-6200
Fernando C. Rivera-Maissonet counsels financial institutions in a variety of matters including litigated foreclosure, declaratory judgment …
Showing 14 posts by Fernando C. Rivera-Maissonet.
The mortgage foreclosure world continues to experience change at a moment's notice. Lenders continue to defend against borrower actions seeking to discharge their mortgages as time-barred, which in turn has led to the development of several defenses supported by the appellate courts. Whether it is lack of standing to accelerate the mortgage debt, revocation, or re-affirmation of the debt, all of these defenses are not as interesting—and powerful—as full immunity from the statute of limitations. In Windward Bora, LLC v. Wilmington Savings Fund Society, FSB, that's exactly what the Second Circuit found, and its decision could have a substantial impact for lenders in New York and elsewhere. More ›
The New York Court of Appeals issued two important end-of-the-year decisions on December 17, 2020 in a heavily litigated, affirmative defense in residential mortgage foreclosure actions: the lack of standing to foreclose.
In US Bank N.A. v. Nelson and JPMorgan Chase Bank, National Association v. Caliguri, the court analyzed both the pleading requirements for the defense and the standard of proof required to show standing to foreclose. In one-page, unanimous decisions, the court affirmed the Appellate Division's decisions, which both ruled in favor of the mortgagee. More ›
On May 7, 2020, New York Governor Andrew Cuomo issued Executive Order 202.28, which provides further temporary relief measures for tenants facing an eviction. The order also directly impacts mortgage loan holders, servicers, and borrowers, as it bars the "initiation" of certain residential and commercial mortgage foreclosures for another 60 days from June 20, 2020. More ›
Hinshaw continues to monitor the deepening circuit split over what constitutes an automatic telephone dialing system (ATDS) under the Telephone Consumer Protection Act (TCPA), which restricts certain automated calls and text messages. To say there has been substantial debate by the courts and FCC concerning what constitutes an ATDS would be putting it lightly. And, just when it seemed a majority position was emerging, the playing field seems to have leveled with the Second Circuit's decision in Duran v. La Boom Disco, Inc. More ›
The Second Circuit recently certified two questions to the New York Court of Appeals regarding the requisite proof needed for borrowers to dispute the lender's compliance with New York Real Property Procedures and Acts ("RPAPL") § 1304 and the required filings under RPAPL § 1306 for a multi-borrower mortgage loan. The New York Court of Appeals has not yet ruled on these statutes and the requisite proof needed to comply with them. A decision on these issues could greatly impact the mortgage industry, given the impact of these statutes on mortgage foreclosure proceedings. More ›
The Second Circuit Court of Appeals recently took the opportunity to apply its 2018 holding in Cohen v. Rosicki, which had held that a consumer pursuing a claim for violation of Fair Debt Collection Practices Act (FDCPA) must allege facts sufficient to demonstrate a material misrepresentation. Materiality depends on "whether the false statement would frustrate a consumer's ability to intelligently choose his or her response," or if the representation "could mislead the debtor as to the negate and legal status of the underlying debt," or "could impede the consumer's ability to respond to or dispute collection." More ›
We previously discussed the State of New York's Appellate Division for the Second Judicial Department's holding that a lender's voluntary discontinuance of a judicial foreclosure action by itself, whether by court order or stipulation of the parties, is insufficient to evidence a lender's intent to revoke the acceleration of the entire mortgage debt. Now, the legal landscape in New York might drastically change given the Court of Appeals' grant of leave to appeal in Freedom v Engel. More ›
In Taggart v. Lorenzen, the U.S. Supreme Court reviewed the 9th Circuit Court of Appeals' Order, which affirmed the Bankruptcy Appellate Panel's Order vacating civil contempt sanctions against Bradley Taggart's ("Bradley") creditors for violation of a Bankruptcy Court discharge Order. On certiorari to the Court, the central issue was to determine "what the appropriate criteria should be for a Court to hold a creditor in civil contempt for attempting to collect a debt that a discharge order has immunized from collection." And, SCOTUS adopted an objective standard, which creditors should be mindful of going forward. More ›
We previously discussed Avila v. Reliant (Avila II) and U.S. District Court Judge Spatt's dismissal of a consumer's attempt to sue on the "safe harbor" language she helped establish in Avila v. Riexinger & Associates (Avila I). As predicted, Avila II was appealed to the Second Circuit Court of Appeals. Although the Second Circuit affirmed the dismissal, the Court did not address Judge Spatt's reasoning for the dismissal. More ›
On May 7, 2019, the Consumer Financial Protection Bureau (CFPB) issued a notice of proposed rulemaking (NPRM) for application of the Fair Debt Collection Practices Act (FDCPA). The significance of this NPRM cannot be understated. The CFPB's proposed rules cover multiple aspects of debt collection and are one of most substantial developments in the debt collection industry since the enactment of the FDCPA in 1977. The proposed rules seek to modernize application of the FDCPA to match the sophistication of today's electronic communications (e.g., voicemails, text messages, and electronic mail) and provide safe harbors and prescribe prohibited conduct. We've highlighted some of the proposed rules that demonstrate the significant impact on both debt collectors and debtors below. More ›
Search

Subscribe via Email


Subscribe to this blog's feed

Follow us on Twitter
Blog Editors