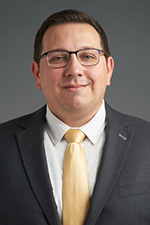 Michael R. Guerrero
Partner
mguerrero@hinshawlaw.com
213-614-7384
Michael Guerrero advises companies within a wide range of industries on consumer protection and consumer financial services issues, including …
Showing 3 posts by Michael R. Guerrero.
Last month, the Department of Financial Protection and Innovation (DFPI) published proposed regulations under the Debt Collection Licensing Act (DCLA). The regulations largely address procedural matters related to obtaining a license. However, the DFPI's proposed regulations also appear to implicitly address the scope of the license requirement, potentially expanding the category of licensees beyond what the statutory text contemplates. More ›
We analyze in this client advisory the recent decision by a unanimous U.S. Supreme Court to narrow the definition of what constitutes an automatic telephone dialing system, or autodialer. Our analysis includes a take on the potential impacts of the decision, as well as the significance of a Democratic Party-controlled FCC. We note that the TCPA has not gone away and callers should continue to carefully consider how best to comply with its provisions to avoid further litigation and regulatory risk.
Anti-discrimination efforts are front and center for the Consumer Financial Protection Bureau. This is evident by the interpretive rule it recently issued relating to the Equal Credit Opportunity Act (ECOA) and Regulation B. The rule clarifies that the prohibition against sex discrimination in ECOA and Regulation B encompasses sexual orientation and gender identity discrimination. The prohibition includes discrimination motivated by perceived nonconformity with sex-based or gender-based stereotypes, as well as discrimination based on an applicant's associations. More ›