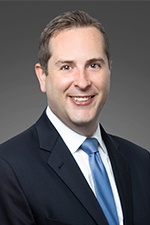 Brian S. McGrath
Partner
BMcgrath@hinshawlaw.com
212-471-6226
Brian McGrath counsels companies on a wide range of complex commercial legal issues. The co-chair of the firm's Consumer Financial Services Practice …
Showing 5 posts by Brian S. McGrath.
On May 5, 2021, the U.S. District Court for the District of Columbia struck down the Centers for Disease Control and Prevention's nationwide eviction moratorium. According to the court, the CDC exceeded the scope of its authority under the Public Health Services Act, 42 U.S.C. § 264(a) (PHSA) when it enacted the "Temporary Halt in Residential Evictions to Prevent the Further Spread of COVID-19" (CDC Order). The decision could have wide-reaching ramifications and set a precedent for challenges to various eviction and foreclosure moratoriums across the country. More ›
Last year, as we reported, the Second Circuit requested that the New York Court of Appeals rule on two certified questions concerning predicate notices in foreclosure actions. On March 30, 2021, the Court of Appeals issued its decision in Schiffman on the questions certified by the Second Circuit concerning New York Real Property Actions and Proceedings Law (RPAPL) §§ 1304 (90-day predicate notice) and 1306 (pre-foreclosure filing with the superintendent of banks). More ›
The New York Court of Appeals reversed four Appellate Division decisions and decided in favor of the mortgagees in a consolidated decision issued on February 18, 2021, ruling, inter alia, that:
a demand letter which includes language that the debt "will be" accelerated expresses a possible future event and therefore does not constitute an unequivocal overt act which would accelerate the mortgage debt;
a defective pleading which incorrectly references only the original terms of a loan – not the operative modification agreement – is insufficient to accelerate the mortgage debt;
a mortgagee's voluntary discontinuance of a foreclosure action is sufficient to revoke the acceleration created by the filing of that complaint; and
a mortgagee's motivation for the discontinuance and revocation of the acceleration is irrelevant to the Court's analysis.
More ›
On July 24, 2020, the New York State Courts issued Administrative Order 157/20 (AO/157/20). Effective July 27, 2020, AO/157/20 removes the formal suspension of all residential foreclosures, but keeps a limited suspension of commercial foreclosures in place until August 19, 2020. Under this new directive, foreclosure actions can be resumed by courts first scheduling at least one conference. Those conferences are expected to be the same as the mandatory CPLR 3408 settlement conferences—even if settlement conferences were previously held—because the courts were directed to consider all aspects of the case, including "the effects, if any, that the COVID-19 pandemic has had upon the parties." More ›
On June 17, 2020, New York Governor Andrew Cuomo signed Senate Bills 8243C and 8428 into law, adding Section 9-x to the Banking Law. The section creates new procedures for mortgagors and servicers in relation to forbearances of residential mortgage payments affected by the COVID-19 pandemic. More ›