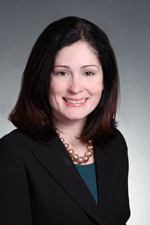 Hale Yazicioglu Lake
Partner
HLake@hinshawlaw.com
617-213-7023
Hale Lake brings more than 15 years of experience as a trial lawyer and litigator. In addition to her work with consumer financial services litigation …
Showing 4 posts by Hale Yazicioglu Lake.
The Bankruptcy Appellate Panel for the First Circuit has affirmed an earlier decision that concluded a borrower's right to redeem terminates when the gavel falls at a foreclosure auction, and not when a deed is recorded. More ›
Under Massachusetts law, a foreclosing lender has a duty of good faith and reasonable diligence to obtain the highest possible price for a property at auction. Until recently, it was considered appropriate for the lender to make a credit bid up to the amount owed on the mortgage in order to satisfy this duty. However, a recent decision by the Massachusetts Appeals Court has expanded the duty of good faith and reasonable diligence beyond a review of the property's assessed or appraised fair market value. A property's development potential may also need to be reviewed in order to calculate an acceptable winning bid. More ›
After much anticipation, Senate bill 2155—which rolls back major aspects of the Dodd-Frank law—was approved by Congress and was signed into law by President Trump.
Among the most notable changes, the legislation waters down regulations for small and regional banks. The threshold for banks "too big to fail" will be raised from $50 billion in assets to $250 billion, so that fewer than ten major U.S. banks will now be subject to Dodd-Frank's strictest regulations, including the Federal Reserve's stress test.
While the bill is widely regarded as regulatory roll back, the legislation also updates certain consumer protections, mostly regarding credit reports and student loans. More ›
Over the last ten years, cities like Miami, Florida have experienced a decrease in property tax revenues, an increase in demand for police, fire and other municipal services, and an increase in foreclosures and vacancies, particularly in minority neighborhoods. In what appears to be a response to this environment, the City sued Bank of America and Wells Fargo for violations of the Fair Housing Act, claiming they intentionally issued riskier mortgages on less favorable terms to African-American and Latino customers. According to the City, this discriminatory conduct caused higher foreclosure rates and vacancies among minority borrowers, which in turn lowered property values, diminished property-tax revenues and increased the demand for municipal services to remedy the blight that foreclosures and vacancies generate. More ›