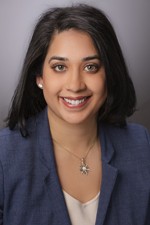 Vaishali S. Rao
Partner
vrao@hinshawlaw.com
312-704-3156
Vaishali Rao focuses her practice in two primary areas: first, defending companies in regulatory investigations and litigation brought by …
Showing 18 posts by Vaishali S. Rao.
To assist consumer financial services lenders, servicers and investors, Hinshaw has developed an interactive tracker of state regulations related to the COVID-19 pandemic. The tracker documents actions by various state regulators, along with the limits imposed by states on foreclosures, evictions, and debt collections, and allows users to click on any state to view applicable provisions. We recommend adding the tracker to your browser bookmarks, as we will update it on a regular basis. More ›
On September 19, 2019, the Consumer Financial Protection Bureau (Bureau) hosted the second in a series of scheduled symposia. After the first symposium, we evaluated the panel discussions that focused on the term "abusive" and whether the Bureau should disclose parameters surrounding its interpretation of the term. The September 19 symposium addressed how behavioral law and economics can inform regulatory action. The discussion consisted of two panels: first, an academic discussion of behavioral economics, while a second panel discussed how behavioral economics can inform regulatory action, or lack thereof, in the consumer financial services field. More ›
An important resource for financial services compliance professionals just received a new update. The Third Edition of the 50 State Guide on Student Loan Servicing Regulations—a quick reference guide and resource for student loan servicers regarding the regulations specific to the industry, along with pending legislation, litigation, and court rulings—now also includes language of the rules implementing state student loan servicer laws. More ›
The Senate voted 50-49 along party lines last week to confirm Kathleen "Kathy" Kraninger to a five-year term as the newest director of the Consumer Financial Protection Bureau (CFPB). She will succeed Acting CFPB Director Mick Mulvaney. Prior to her appointment, Kraninger served as an associate director in the Office of Management and Budget. She also previously held posts in the departments of Homeland Security and Transportation. More ›
At the close of a 108 page decision filed in response to motions to dismiss a CFPB enforcement action, Consumer Financial Protection Bureau v. RD Legal Funding, LLC, C.A. No. 17-cv-890, Judge Loretta Preska of the U.S. District for the Southern District of New York (within Second Circuit jurisdiction) granted the motions by concluding the CFPB's structure was unconstitutional. This is significant because the D.C. Circuit had determined en banc earlier this year that the CFPB was constitutional in PHH Corp. v. CFPB. More ›
We've been following PHH's longstanding challenge of the CFPB's imposition of a fine against it for alleged RESPA kickback violations, through which elemental questions regarding the Bureau's constitutionality were tested. More ›

The Headlines
After much anticipation, on January 11, 2018, the Department of Education filed its Notice of Completion of Corrective Action. The filing announced its hotly contested award of unrestricted contracts for collection of federal student loans to two primary private collection agencies, Performant Recovery, Inc. and Windham Professionals, Inc. Several other small business contractors will also receive portions of the business.
According to the Department of Education, the total contract award amount for the base period and option period is not to exceed $400,000,000, and the base period of performance for this contract is January 11, 2018 through January 10, 2023. More ›
Last week, the Democratic Attorneys General sent a letter to President Trump expressing concern over his choice for CFPB director, Mick Mulvaney and the future of consumer protection, more generally. As was expected, the states are preparing to take on more aggressive roles in consumer protection given the significant weakening of the CFPB. "State attorneys general have express statutory authority to enforce federal consumer protection laws, as well as the consumer protection laws of our respective states," the group said in its letter. "We will continue to enforce those laws vigorously regardless of changes to CFPB's leadership or agenda." More ›
In news that is still breaking, the first and only Consumer Financial Protection Bureau director, Richard Cordray, has announced he will be resigning at the end of this month. He announced his departure in an email to staff that was reported out by several news agencies. His term was set to expire in July, 2018. Many predict Cordray will make a run for Ohio governor. More ›
Yesterday, the Illinois House of Representatives voted 98-16 to override Governor Bruce Rauner's veto of the Illinois Student Loan Bill of Rights. The IL student loan bill provides for the licensing of student loan servicers and imposes numerous, detailed requirements concerning the servicing of student loans. Among other things, the bill sets forth certain information that must be provided to borrowers, some of which must be provided through a trained repayment specialist. Non-exempt servicers have until December, 2018 to become compliant. Illinois is the 4th jurisdiction to create such a law, following Connecticut, California and the District of Columbia. More ›
Search

Subscribe via Email


Subscribe to this blog's feed

Follow us on Twitter
Blog Editors