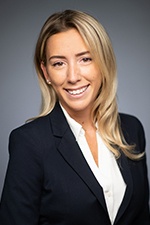 Hailey J. Barthel
Associate
HBarthel@hinshawlaw.com
212-471-6242
Hailey Barthel's practice encompasses all aspects of consumer financial services. With a background in both the private and public sectors, she …
Showing 5 posts by Hailey J. Barthel.
We recently reported on the California Attorney General's ongoing and active enforcement of the California Consumer Privacy Act (CCPA) despite COVID-19 and the availability of private actions. In Robert Cullen v. Zoom Video Communications, Inc., N.D. Cal., No. 20-cv-02155, filed on March 30, 2020, plaintiff alleges that Zoom failed to properly safeguard the personal information of him and other users of its software application (Zoom App) and video conferencing platform. More ›
Despite concerns expressed by the business community, enforcement of the California Consumer Privacy Act (CCPA) will not be delayed as a result of the COVID-19 pandemic. California Attorney General Xavier Becerra recently clarified that his office "is committed to enforcing the law upon finalizing the rules or July 1, whichever comes first. … [W]e are all mindful of the new reality created by COVID-19 and the heightened value of protecting consumers' privacy online that comes with it. We encourage businesses to be particularly mindful of data security in this time of emergency." More ›
In response to challenges facing the financial services industry as a result of coronavirus (COVID-19), New York's Department of Financial Services (DFS) has issued a COVID-19 compliance order, along with a series of industry guidance letters related to the organizational preparedness of regulated institutions to manage risks associated with the outbreak.
Below is a summary of these recent actions and requests for information. Institutions are encouraged to visit the DFS website for additional updates and information. Hinshaw is well-positioned to assist impacted institutions in their review of the DFS instructions and the preparation of responses. More ›
The Governors of California and New York have announced 2020 policy agendas that aim to expand consumer protections in response to what they describe as federal inaction, roll backs, and failures. We explore these proposed changes in detail below. More ›
A recent hearing at the Senate Committee on Commerce, Science, and Transportation explored the contours for a comprehensive and bipartisan federal data privacy law. Titled "Examining Legislative Proposals to Protect Consumer Data Privacy," the hearing featured an all-female panel of experts, including two former FTC leaders, and representatives from industry, academia, and consumer rights groups.
The panel discussion centered on current privacy legislation proposed by U.S. Senators Maria Cantwell (D-Wash.) and Roger Wicker (R-Miss.) which would provide consumers with greater security, transparency, choice and control over their personal information on- and off-line, and provide the Federal Trade Commission (FTC) with additional resources and authority to regulate. The hearing and written testimony are available on the Senate Committee's website. More ›