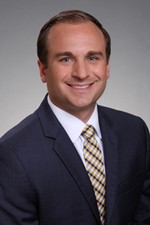 Jordan S. O'Donnell
Associate
jodonnell@hinshawlaw.com
617-213-7021
Jordan O'Donnell defends the interests of his clients in complex litigation, including a variety of consumer and class action matters. Focusing …
Showing 7 posts by Jordan S. O'Donnell.
We recently reported on a Fifth Circuit decision that ruled some private, for-profit student loans are dischargeable in bankruptcy without a showing of undue hardship—something unusual and inconsistent with the widely-held belief that student loans are rarely discharged. It turns out that the Fifth Circuit's decision may have initiated a trend, for both private and federal loans. More ›
Many student loan borrowers, lenders, and servicers operate under the presumption that student loans are generally not dischargeable in bankruptcy, absent an "undue hardship." That notion may no longer be a bright line rule, following a recent ruling by the Fifth Circuit Court of Appeals. The court ruled that certain private, for-profit student loans can in fact be discharged without the borrower providing a showing of undue hardship. This decision is particularly notable as private, for-profit student loans—including loans to cover increasing tuition costs not covered by federal loans, refinance loans, and consolidation loans—continue to see increased use. More ›
After much anticipation, Senate bill 2155—which rolls back major aspects of the Dodd-Frank law—was approved by Congress and was signed into law by President Trump.
Among the most notable changes, the legislation waters down regulations for small and regional banks. The threshold for banks "too big to fail" will be raised from $50 billion in assets to $250 billion, so that fewer than ten major U.S. banks will now be subject to Dodd-Frank's strictest regulations, including the Federal Reserve's stress test.
While the bill is widely regarded as regulatory roll back, the legislation also updates certain consumer protections, mostly regarding credit reports and student loans. More ›
In Krieger v. Bank of America, the plaintiff unknowingly gave a scammer access to his personal computer, which was used to make a $657 Western Union charge on his Bank of America (BOA) credit card. Upon realizing the scam, the plaintiff immediately contacted BOA and was told that nothing could be done until he received his monthly billing statement. On receipt of the statement one month later, the plaintiff again contacted BOA, which credited his account while it investigated. In a confirmatory letter, BOA stated that, although Western Union could provide additional facts, BOA considered the dispute resolved. Although the plaintiff's next statement showed the credit, BOA followed up with a subsequent letter, which stated that, based upon additional information from Western Union, BOA believed the charge was in fact valid and would reinstate it to the plaintiff's account. The plaintiff then sent a letter detailing the events, declaring the charge invalid, and requested it be removed. BOA denied his request. The plaintiff paid the charge and filed suit. More ›
The Third Circuit Court of Appeals recently reiterated how a debt collector may run afoul of the Fair Debt Collection Practices Act ("FDCPA") by sending a misleading follow-up, even if it served a compliant demand letter weeks earlier. More ›
Like Bruce Springsteen, a Massachusetts bankruptcy debtor said "no surrender" when it came to his home. In EverBank v. Chacon, a panel of the Massachusetts Appeals Court issued a non-binding decision that a debtor's "surrender" of real property in a bankruptcy petition does not waive defenses to an eventual foreclosure. EverBank had foreclosed on Mr. Chacon's home mortgage, acquired the property at the sale, and then sought to evict him through summary process action filed in Massachusetts state court. Mr. Chacon claimed that that EverBank did not comply with a HUD regulation that requires a face to face meeting prior to foreclosure rendering the foreclosure void. More ›
We have another court decision relying on the Supreme Court's recent Spokeo decision that found a class action plaintiff did not meet the injury-in-fact requirement under Article III of the United States Constitution. In Groshek v. Time Warner Cable, Inc., the Seventh Circuit concluded that a plaintiff's claim of statutory violations under the Fair Credit Reporting Act ("FCRA") alone did not create an injury-in-fact sufficient to establish standing to sue. More ›
Search

Subscribe via Email


Subscribe to this blog's feed

Follow us on Twitter
Blog Editors